A visit to Live and Let Live Farm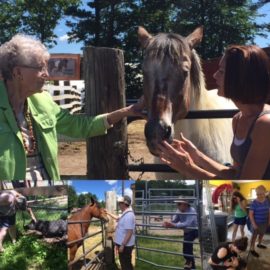 Taylor Residents enjoyed some therapeutic pet time with the animal residents of Live and Let Live Farm in Chichester, NH, June 22. Tammy Levesque, Taylor's Staff and Resident Wellness Director, hosted the trip.
Upcoming events for residents include:
 Zip Lining at Gunstock Mountain Resort, Gilford, June 29
Kayak Lessons and a Paddling Tour on Squam Lake in conjunction with Northeast Passage – date to be determined, depending on number of participants
Hiking trip to Chamberlain Reynolds Memorial Forest in Meredith July 13
Trip to Belmont Firearms, July 20. Trained instructors will help participants experience shooting firearms.
For more information or to register for any of these events, contact Tammy at 366-1206.
Posted in: Events, News and Events, Trips
---