Abandoned New Hampshire Lecture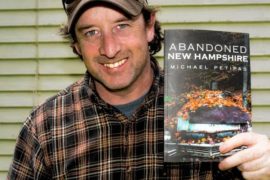 In "Abandoned New Hampshire," Author Mike Petipas captures his home state's past in the present through a collection of photographs. Let him take you through this visual journey in a presentation Monday, Nov. 25 at 6:30 p.m. in Taylor Community's Woodside Building.
All abandoned locations have a story to tell. Some are simply abandoned homes; others were once giants of industries that employed the majority of the people who lived around them. Local favorites such as the Colonial Theater hold a sense of nostalgia for local residents. Discover the beauty left in the wreckage and rubble of these old buildings before they disappear.
Posted in: Events, News
---