Aging Workshop with Dr. Khanh Lai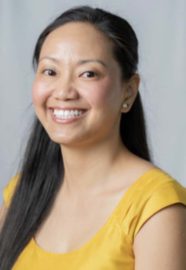 Growing old is an inevitable part of life. Because aging is a gradual process, it often becomes an inactive thought until an unexpected decline or loss occurs. Aging only becomes an active thought when it is necessary, and such unexpectedness is often accompanied by shock and unnecessary stress.
Join us as Gerontologist Dr. Khanh Lai, presents an interactive discussion on the common losses associated with aging, and hear her suggestions on ways to adapt and cope with aging declines. This free, public event will be held Tuesday, March 10 at 6:30 p.m. in Taylor Community's Woodside Building.
Doctor Lai was born in Vietnam, immigrating to the U.S. when she was 9 years old. She resided in Nebraska most of her life prior to coming to Plymouth and joining the Social Work faculty at Plymouth State University. She obtained her bachelor's in Social Work at Creighton University and her master's in Social Work and doctorate in Gerontology at the University of Nebraska in Omaha. She worked as a Medical Social Worker, attending to older adults, at healthcare facilities for more than seven years.
Doctor Lai's research focuses on cognitive aging among older married couples, examining the influence of lifestyle activities, personality traits, psychological health, and memory outcomes. Currently, she is working on a cluster project with the Psychology and Nursing Programs at PSU on the "Music and Memory" project at Glencliff Home.
Posted in: Events, News and Events
---