Life is better in a Community
June 19, 2020
This past March our lives were all flipped upside down as the pandemic moved across the country and the state began to shut down and order us all to stay home.  It was a scary time for most as we tried to understand how to stay safe, healthy and support one another.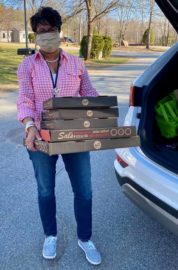 What emerged during these unprecedented times was the overwhelming feeling that at Taylor, we are all in it together.  From the 180+ staff members all going above and beyond to create new communication tools, services and entertainment options that followed all of the state and national guidelines – to the wonderful residents of the community supporting each other while not seeing family and outside friends – all made a difficult time feel manageable.
Many of the comments came from both new and longtime residents who appreciated Taylor's prompt action.
 "Team Taylor has been extraordinary in keeping us safe and healthy during the Covid-19 pandemic. We are grateful for all you wonderful people that make Taylor Community a great place."  J. Denne and D. Thompson
"We want to express our extreme appreciation and thanks to the staff at Taylor for their amazing, incredible efforts, talent, work, kindness and good humor!"  P & R Chambers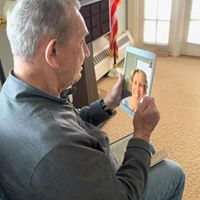 "We thank you from the bottom of our hearts for all you have done delivering meals, going food shopping, and pharmacy pick-ups. The whole team working together with a friendly hello and wave made us feel what a great and awesome place to live." J & N Miller
The thank you notes and messages of appreciation came from many family members in addition to the residents who live here.
"Thank you for all you do for my mom! We are so incredibly grateful." J. Cleary & Family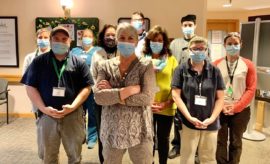 "To all the nurses, aides and everyone who takes time out of their very busy days to go in and chat with mom and hold her hand, Thank you, Thank you, Thank You." "The Whittemore Family
One thing is for sure, even during a pandemic, living in a community means that you are not alone.  We are all in this together, supporting each other every day.
From reading the daily messages from Michael Flaherty, President and CEO in the Daily Gazette
To being entertained by our Director of Resident Life, Brenda Kean with her daily "link letters" offering humor, entertainment and lectures to view
To participating in our virtual fitness classes by Heather Joubert and her fitness team
Or being connected with family members virtually during this difficult time, there was something available for everyone. Even our wonderful extended family and friends supported us all on Mother's Day, arriving in record numbers for our parade.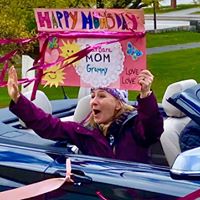 "I drove from Vermont to drop off a package for my mom and when I arrived, cars were lining up for a parade to celebrate Mother's Day.  Like the other family and friends, I decided to join in.  Led by the Laconia Fire trucks and police, more than 100 cars filled with family members and friends paraded through the campus to residents' cheering, clapping, waving and sometimes tears of joy."  C. Charlton
At some point, this virus will be behind us and life at Taylor Community and other CCRCs will return to normal. In the meantime, it's comforting that the residents here know they could not be in a better place, whether in good times or bad.