Dr. Michael Cross: Serendipity in Science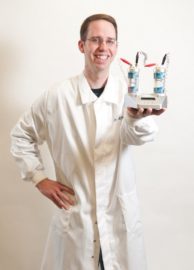 Genius is one percent inspiration and 99 percent perspiration, but sometimes a little luck can help.
From penicillin to Silly Putty, NutraSweet to amazing anti-cancer drugs, some of the most incredible breakthroughs have been accidental. Learn how the 2010 Nobel Prize in physics was for something that you surely created in kindergarten.
Everyone is welcome to join us Wednesday, Sept. 4 at 6:30 p.m. in Taylor Community's Woodside Building for this free lecture by Dr. Michael Cross.
Doctor Cross, Associate Professor of Chemistry, is department chair of Natural Sciences at Northern Essex Community College where he teaches chemistry and forensic science. He believes education should be fun and exciting and incorporates demonstrations and magic tricks into his teaching. He holds a PhD. in organic chemistry from the University of Utah where he specialized in oxidative lesions in DNA and RNA.
Posted in: Events, News and Events
---