Freese Brothers Big Band in Concert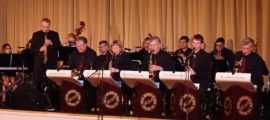 Everyone is welcome to join us Monday, Sept. 9 at 6:30 p.m. in Taylor Community's Woodside Building for a free concert by The Freese Bros Big Band.
The band was formed in 1982 to support and encourage the development of musical talents of the public, its members and especially young musicians, as well as to foster an appreciation of music of all eras.
Members live and work throughout central and Southern New Hampshire, coming from professional and musical backgrounds, including talented high school students. Some of the students have gone on to college to study music for their future careers. They blend their years of experience to produce the distinctive sound of the Freese Brothers Big Band.
Posted in: Events, News and Events
---