Heather Pierson Jazz Trio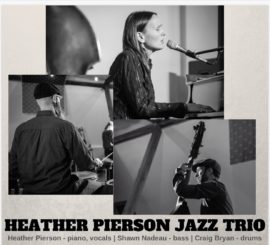 Based in New Hampshire's Mount Washington Valley, Heather Pierson is a pianist, singer/songwriter, known for her bell tone vocals and equal parts New Orleans-Oscar-Brubeck jazz piano leanings.
Together with Shawn Nadeau (bass, harmony, vocals) and Craig Bryan (drums), they are the Heather Pierson Jazz Trio.
Everyone is invited to enjoy an evening of Heather's original music, jazz and blues standards and unique reworkings of familiar American tunes, Monday, Sept. 30 at 7 p.m. in Taylor Community's Woodside Building.
Posted in: Events, News
---