Joubert Promoted to Wellness Director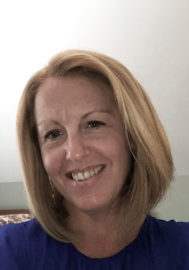 Heather Joubert, previously the Aquatics and Fitness Coordinator at Taylor Community, has been promoted to Wellness Director.
Only with the organization since December 2018, Joubert has proven herself to be a leader.
"Heather is an innovative and creative thinker and I am excited to see the full range of active and engaging programming she will implement at Taylor," said Michael Flaherty, Taylor Community President and CEO. "It is an exciting time to be a Taylor resident with Heather on board as part of our leadership team."
The southern New Hampshire native worked in the physical therapy arena for 17 years prior to coming to Taylor, much of that time spent working with seniors.
Friend and former Wellness Director Tammy Levesque recruited Heather for the aquatics position.
"I have found my dream job," said Joubert with a big smile. "It's a wonderful feeling to wake up excited every day about coming to work. I joke that I get to spend the day with 'my buddies,' who are so inspiring to me."
She likes that the residents are active participants in the selection of fitness classes offered. "We listen to what they're interested in and if they want to try something new, we're on it," she said. Currently offered, among others, are Boxing; Mat Yoga; Tai Chai; a Hiking Group; Aqua Circuit and Gentle Arthritis Aqua-Cize in the therapy pool. The Arthritis class is so popular; she's had to add a second one. There is also a fitness center with a variety of workout equipment.
She now lives in Gilford with her family, but enjoyed the Lakes Region over many summers visiting her grandparents, and feels right at home here.
Posted in: Events, News and Events
---