Peg & Cheryl in a Holiday Performance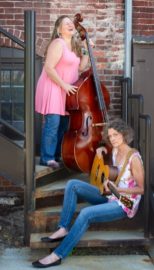 Back by popular demand, Peg Chaffee and Cheryl Sager bring us their Holiday Performance of favorites! The female duo Nice & Naughty perform contemporary folk music playing stand-up bass, guitars, pennywhistle, and singing exquisite harmonies.
Everyone is invited to join us Monday, Dec. 23 at 6:30 p.m. in Taylor Community's Woodside Building for this free event.
Nice & Naughty's original music speaks to all aspects of everyday life, from whimsical to poignant, serious to silly and their exquisite harmonies are the highlight of their performance. Sometimes irreverent, but never rude, this duo is sure to appeal to all audiences!
Posted in: Events, News
---