We Embrace a Holistic Approach to Wellness: Mind, Body, and Spirit.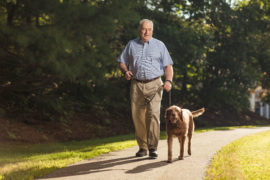 At Taylor, we believe that active living is key to a happy retirement and wellness is a way of life. That's why we make sure fitness is fun, and we've created opportunities for our residents to choose a wellness-centered lifestyle that promotes better health and quality of life year-round.
Lifelong Fitness with Like-minded Friends
Staying committed to lifelong fitness is made easy here at Taylor. Looking to do something active with your neighbor? Visit the on-campus fitness centers located on all three of our campuses, or join a group class. Seeking a day of exercise in the great outdoors? Take a walk through the woods on one of our extensive walking trails. No matter what fitness looks like for you, you'll find the perfect fit at Taylor. And, best of all, there are always like-minded friends to join you in your adventures.
Achieving your Fitness Goals
At both Taylor Laconia and Taylor Sugar Hill, we cover all the bases when it comes to fitness classes, programming, and personal training options. If you're interested in meeting new fitness goals with strength, balance, and endurance, we have a professional to help you with that! Or, if you're looking to join your friends for a group yoga class or a morning hike, we offer that too. Taylor is excited to help you reach your fitness goals every step of the way.
Taylor Laconia's Heated Pool
If you love the water, you may enjoy taking a dip in Taylor Laconia's indoor warm water therapy pool. We facilitate numerous aquatic classes, therapy, and training programs for all residents year-round. And the pool is open daily for resident independent use. While the pool is located on the Laconia campus, Taylor members from all campuses are invited to take advantage of the many classes and benefits the therapy pool has to offer.
What is Wellness?
While our fitness options are endless, wellness is about more than just fitness—Taylor Community embraces a definition of health and wellness that encompasses not just the body, but the mind and spirit as well.