2020 Taylor Concert Series Kicks Off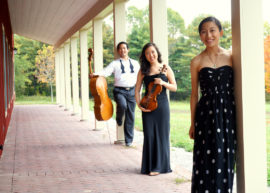 The 2020 Taylor Concert Series, sponsored by Bank of New Hampshire kicks off Sunday, Jan. 19 at 3 p.m. in Taylor Community's Woodside Building with the Meadowlark Trio, performing works by Mozart and Brahms. This free event is open to the public.
The trio – comprised of Janny Joo, violin; Timothy Paek, cello, and April Sun on piano – hails from America's heartland. Formed by the three best friends in 2012, they have since performed nationwide to great acclaim. Performances include the Toronto Summer Music Festival; Carnegie Room Concerts and Spectrum Music Series in New York as well as the Bing Concert Hall in California and house concerts in Montana.
The group looks beyond the conventional model of classical music by creating new works and commissioning works by multiple composers. They are also deeply committed to community outreach. As fellows for Music for Food, they present concerts and workshops throughout the greater Boston area to benefit local food pantries.
Posted in: Events, News
---