Watching the Lights Go Out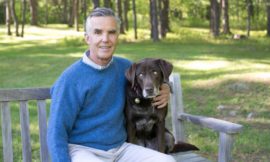 "Watching the Lights Go Out," in an inspiring story about a charming, brave, Chocolate Lab named Bessie, who gradually loses her eyesight. Author Thomas W. Farmen leads the reader from the unexpected diagnosis of terminal blindness for his beloved 4-year-old pet through her two and a half year transition to sightlessness.
Join us Wednesday, Jan. 15 at 6:30 p.m. in Taylor Community's Woodside Building, as the author shares the story of how throughout the process, Bessie unwittingly becomes an expert mentor and teacher for the high wire act of growing older with grace and optimism. This free event is open to the public.
Posted in: Events, News
---