Boston's Vintage Vocal Quartet
October 3, 2019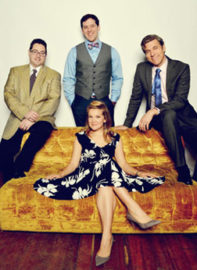 The 1930's and '40's hit the sweet spot when swing, jazz and pop music were one and the same. It was a time when every radio blared out music that was danceable, but sophisticated.
The Vintage Vocal Quartet bring back that era with their sweet harmonies in the next Taylor Community Concert Series, scheduled for Sunday, Oct. 13 at 3 p.m. in the Woodside Building. The event is free and open to the public.
Taylor O'Donnell, David Thorne Scott, Adam Gautille, and Paul Pampinella are all vocalists who double on piano, bass, guitar and trumpet to delight the audience with the full, rich style of the big band era in a tight little package.
Reminisce to the sound of Glenn Miller's Modernaires, the Nat King Cole Trio, the Andrews Sisters and Tommy Dorsey's Pied Pipers, as well as Bing Crosby, Frank Sinatra, Ella Fitzgerald and Jo Stafford. This event is sure to bring back great memories.