Gala Makerspace Presentation at Back Bay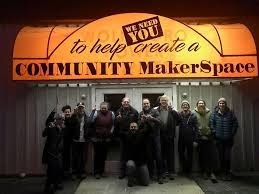 Global Awareness Local Action will hold an informational presentation Thursday, Feb. 20 at 2 p.m. on Taylor Community's Back Bay Campus, 66 Taylor Drive, Wolfeboro. Attendees can expect to see slides from the group's visit to other makerspaces across the northeast, as well as hear about building and floorplan updates for their new Bay Street location from founding director Josh Arnold.
Over the past decade, makerspaces have exploded in popularity all over the globe with nearly 1,400 active spaces. Also called hackerspaces or innovation labs, these establishments act as communal workshops where "makers" can share ideas and tools.
There are now plans to establish a community makerspace in Wolfeboro, an effort led by the local not-for-profit Global Awareness Local Action. Last fall, in conjunction with the local organization's 10-year anniversary, GALA landed a $250,000 grant from the Northern Border Regional Commission. The funds were used to execute a purchase and sale agreement for 23 Bay Street, the former Wolfeboro Power Equipment facility.
Posted in: Events, News
---